Do you wonder how to beat the heat of summers and feel cool? Well, you're not alone. Summer is unbearable due to the heat. You wear short clothes, drink chilled water, eat ice-cream, and follow everything else to beat the heat. But, the most effective way to save yourself from the summer is by running an effective AC.
There are different forms of Air Conditioners available in the market. Here, we are talking about portable ACs. As the name suggests, it can be carried away from one place to another easily (i.e. from the bedroom to the kitchen) They effectively cool the room, easy to fit in a small area, and provide you the much-needed respite.
To choose the best portable AC in India, we have curated a list of only top models available in India after in-depth research. So, go and grab one for yourself!
Best Portable Air Conditioners in India (2021)
| | |
| --- | --- |
| Brand | Lloyd |
| Capacity | 1 Ton |
| Warranty | 1 year and 10 years on compressor |
| Weight | 30 Kg |
Due to India's location at the tropic of cancer, it becomes sweltering and humid in the summertime, and buying portable AC is the best option to get off these sunny days. The Lloyd 1 Ton LP12B01TP has a power input value of 1600 watts.
It has the convenience of the sleeping mode that ensures that a pleasant and comfortable temperature is maintained while you sleep. This feature allows you to sleep without any interruption or issue of getting up in the middle of your sleep to set the desired temperature as the sleep mode is good in doing its job quite efficiently.
This air conditioner comes with remote control, which is backlit. This backlit feature allows you to locate it even in the dark. You don't have to seek for the remote in the middle of the night.
It is also inbuilt with advanced features like "Self Diagnosis" that detects any malfunction of any component, making it easier for you to call your technician without any delay. It also becomes trouble-free for the technician as this feature shows the error type on display, and no time is wasted in detecting the type of error.
After the power cut, the "Auto Restart" feature automatically restarts the air conditioner after the power supply resumes. It also has an additional element of "Omni-Directional Casters" that enables the appliance to distribute the fresh air in all directions.
To shield from the attack of rust and sand, it is well equipped with internal groove copper pipes. Copper is an excellent metal that resists corrosion and increases the life of the air conditioner. It is effortless to clean the device. You just need to wipe its wings with a clean damped cloth.
Another convenient feature is the "Self-Evaporative System" that makes sure that the dispersed water evaporates on its own. The accumulation of sparse water can lead to faulty components of the air conditioner. The EVAP prevents gasoline vapors from escaping into the fuel system.
Pros
Self diagnosis feature

Omnidirectional blades

Auto Restart

Auto Swing

Self Evaporative system
Cons
Inefficient cooling compared to split or window ACs
| | |
| --- | --- |
| Brand | Honeywell |
| Capacity | 1.15 Ton |
| Warranty | Not mentioned |
| Weight | 23.6 Kg |
This new Honeywell portable air conditioner has the ability to cool down an area of 300sq. ft. efficiently and is one of the lightest portable air conditioner, which makes it way too easy to carry it around. Its dimension is 360 x 495 x 620 mm, which is perfect for its elegant white body that comes with a LED display panel that shows the selected temperature and the actual room temperature.
Its dehumidifier is a compulsory feature due to the tropical location of India. This dehumidifier ensures that there is no moisture in the air. The presence of moisture makes it sticky and irritating, stopping you from being at your comfort. This also comes with an automatic ON/OFF timer. So, you don't have to get up in the middle of your work or sleep to turn it ON again after the resumption of a power cut.
It consumes 8,000 BTUs of power. The availability of "Exhaust Hose" removes the heated air that is important for the proper working and functioning. The best part of buying a portable air conditioner is that it requires no hard task of installation. It is an easy-peasy task to install a portable AC, and this Honeywell air conditioner is one such appliance that is hassle-free to the station. It has an easy DIY (Do It Yourself) installation process.
The remote that arrives with this has a soft-touch button that requires minimum efforts to operate. The buttons that are placed on the digital panel are also soft and comfortable to touch and do not need any hard efforts to be put-in. The 3-in-1 cooling process makes its cooling process optimum and gives fresh air. The sharp blades of the fan give you a cool breeze all the time.
Pros
Lightweight

DIY installation

Automatic ON-OFF feature

Exhaust hose, drain pipe, and window bracket included.

Soft touch remote button
Cons
It does not have a "Self-Diagnosis" feature
Brand
Koryo
Capacity
1.2 Ton
Warranty
5 year limited
Weight
Indoor unit: 11kg
Outdoor unit: 42 kg
This model makes sure that you stay cool wherever you make your way. You can carry this lightweight, Koryo Lifestyle KPA15FG wherever you want to. It is easy to place it on the floor or insulating tables and have the joy of cool and fresh air at any point of the day.
The anti-bacterial pans are well coated to avoid the chances of rust that can knock off the proper functioning of the appliance. Its ultra-stylish construction adds a pinch of elegance in your interior. The white polycarbonate body is suitable for all types of décor. Its 3-in-1 feature makes it usable for various functions. You can use it as a fan, dehumidifier, or AC. To increase the lifespan of your device, it comes with an anti-corrosive blue fins technology that helps it to stand firm in any environmental conditions.
The anti-bacterial filter wipes off all the dust and pollen, hence enhancing the quality of the breathing air. This also ensures that the atmosphere remains hygienic and dust-free. It has a capacity of 1.2 ton, which makes it suitable for small rooms. This comes with 1 indoor unit, 1 outdoor unit, connecting pipes, and a manual card that helps in the process of installation, making it quick and hassle-free.
Pros
Antibacterial properties

Anti-corrosive blue fin technology

3-in-1 appliance

Lightweight

Enhances the quality of breathing air
Cons
It is not suitable for medium or large size rooms
| | |
| --- | --- |
| Brand | Eurgeen |
| Capacity | 1 Ton |
| Warranty | 1 year limited |
| Weight | 53 Kg |
This newly launched Eurgeen 4 in 1 (Model A5) has an "Auto-Swing" feature that will allow you to sit it any direction and have the optimal cooling without having the trouble to adjust it again and again. Its 4-in-1 feature gives you the delight of four appliances at the cost of one. It works as an air conditioner, dehumidifier, heater, and fan. This makes it suitable for all seasons and weather.
It works at 1320 watts, which can work even in 5 amperes. This will not give the trouble of hefty electricity bills every month that creates a hole in your pocket.
In the monsoon days or humid atmosphere, the interior of the air conditioner accumulates the moisture that can affect the normal working of the device, but with the "Exhaust-Hose" feature, the water will be drained off automatically by evaporating the excess water.
You can use it for small and medium rooms, but it works best within an area of 200-250 sq.ft. It comes with wheels, which makes its portable feature much more worthy. You can invest your money in this newly launched appliance without a doubt.
Pros
Suitable for all seasons.

Wheels for sliding.

It can work at 5 amperes also.

Self- draining system.

User-friendly
| | |
| --- | --- |
| Brand | Geek |
| Capacity | 0.7 Ton |
| Warranty | 1 year limited |
| Weight | Not mentioned |
The Geek 3-in-1 air conditioner is user friendly as it has digital controls and a remote that functions from long range too. The noise-free feature enables you to sleep in complete silence and helps you to have blissful mornings. Also, the easy gliding wheels make it more convenient to stroll around from one room to another as per the need and desire.
It becomes quite lightweight and comfortable to slide it with the help of wheels. With the purchase of this portable air conditioner, you don't have to worry about setting it up like any bulky window or split air conditioners that are difficult to the station and also require a professional technician for proper installation.
This single unit can work as three different appliances. It can function as an air conditioner, dehumidifier, and fan. The digital helps you to set the temperature as per the need and desire. You can also manage the humidity level of your room and can also change the fan speed with 5 levels of variation available.
The 65-decibel noise makes it sleep-friendly as it provides an absolutely peaceful and perfectly silent atmosphere. You can also use it in your office cabins where you can work in a more refreshing environment with complete silence.
Pros
Noise-free

Quick and easy installation

User friendly

3-in-1 uses

Manage humidity levels
Cons
Not suitable for medium-sized rooms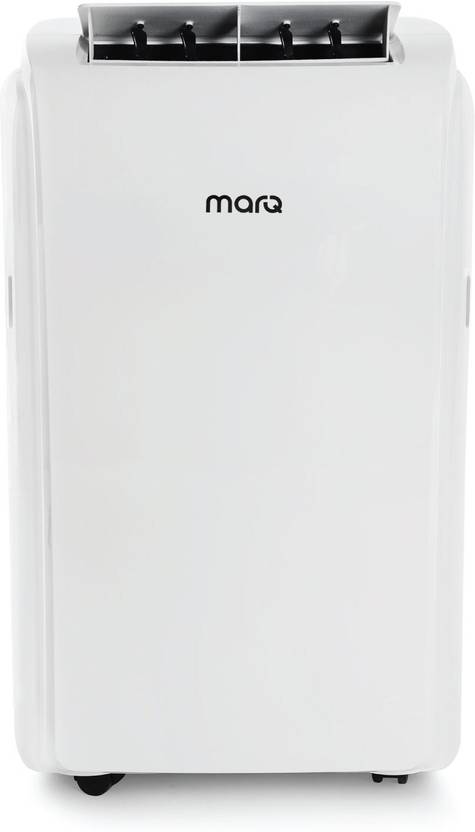 | | |
| --- | --- |
| Brand | MarQ by Flipkart |
| Capacity | 1 Ton |
| Warranty | Not mentioned |
| Weight | 30 Kg |
This advanced and High-tech appliance keeps you cool and delighted in those hot and humid days that can ruin your mood and work. It also has an inbuilt dehumidifier that ensures a non-sticky and undamped air in all seasons. It comes with adequate 4 levels of cooling that you can vary as per the outside weather and your comfort.
The compressor comes with a rotary function that makes the cooling process optimum. With the presence of Refrigerant gas, it becomes zero percent potent of ozone layer depletion, which is a boon to mother earth and humans too. This is a significant feature that correctly serves the motive of sustainable development that does not harm the future generation.
Along with all the above-stated benefits, it has "Sleep Mode" and "Turbo-Mode." The sleep mode ensures that you get undisturbed sleep with no hassle of getting up again and again to set the temperature. The turbo mode instantly cools down the room. You need this facility when you come to your house after that struggling field day in the scorching sun heat.
Pros
Rotary compressor.

4 levels of cooling.

Sleep Mode and Turbo Mode.

Environment friendly

User friendly
FAQs Regarding Portable Air Conditioners in India
Is portable AC good?
Yes. Portable air conditioners are handy during summers. The best thing about them is that they do not need any installation. All you have to do is place it wherever you like, plug it in, and enjoy the cool breeze.
Which is the best portable AC in India?
There are plenty of portable Air Conditioners available in the market. From the above list, Honeywell and Llyod are the great options to choose from.
What is the price of a portable AC in India?
They come in varied sizes and budgets. Hence, they are priced differently. The starting range could be Rs 20,000 and can go up to Rs 1,00,000.
How long does a portable AC unit last?
There's no fixed period of time for that. If you take good care of AC and use it moderately, it can last up to 10-15 years. If you use it more frequently, it will last a decade at least. Take care of your AC and monitor it for maintenance every 3-6 months.
Is portable AC better than Split AC?
Well, it depends. If you need to cool a small room, you can easily be satisfied with a portable air conditioner as they tend to be around 2kw. Whereas if you want to cool down a large room, Split Air Conditioner will be your best bet as they tend to be around 2.5kw to 9kw.
How does a portable AC work?
It works by pulling stagnant air from inside the room. The motor inside the conditioner then cools the air for circulation.
Can you run a portable AC all day?
Technically, yes, you can run it all day. But it's better to give it some relaxing time and leave it off for a few hours to enhance its durability and functioning power.
Do you have to empty the water from the portable air conditioner?
Mostly no. You do not need to drain the water from your AC. They use a condensation exhaust system that expels water vapour collected during the cooling process. This moisture is then released through the exhaust hose.
Can you use a portable AC without venting?
Unfortunately, no. You cannot run a portable AC unit without an exhaust hose. You can opt to buy ventless air coolers, but they are not truly air conditioners.
Verdict
The heat in the summer becomes unbearable. We all need a cooling system in place to keep the heat at bay. Portable Air conditioners are one of the best and easy ways to cool your homes and offices. A good portable AC which is maintained well will last for more than a decade. To buy the best one, first, check your room size, decide your budget, and then read reviews above before making a final purchase.